Welcome to The Book of Eli Wiki
17 articles and growing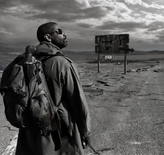 The Book of Eli Wiki is based around the films of the Sniper film series and dedicated to documenting the heroics of Eli, the lone wanderer who saved the last Bible in the world. The Book of Eli is the latest in a slew of post-apocalyptic movies. The world is an ungoverned, desert landfill. Murder, cannibalism, rape, and plunder are commonplace. Denzel Washington is Eli, a man simply "headed West." Why? He won't say. Eli saunters through the desert, stopping only when forced (to recharge his iPod, get water, or defend himself). Fortunately he is a heavily armed, ruthlessly efficient killer. Eli reads every day. He stops in a town run by the tyannical, and inexplainably powerful Carnegie (Gary Oldman). Carnegie is desperately seeking a book – the very same book Eli carries and reads religiously. Washington's action sequences have no stand-ins, and are done in single takes from multiple angles (to prepare for the film he trained with several experts, including Dan Inosanto – Bruce Lee's protégé and current authority on Jeet Kune Do). Mila Kunis is surprising as the female tag-along. The video game feel comes from its writer, Gary "Gaz" Whitta. Gaz is the former editor-in-chief for PC Gamer magazine, and helped write Duke Nukem Forever, Prey, and Gears of War. It's an interesting departure from films adapted from video games. The great thing about the Wikia system is that anyone can edit this Wiki! This is a growing wiki and any help in detailing articles will not go unappreciated. Check out the FAQ to help you get started!
If you're new to Wikia, please use the above links to get started. If you already have editing experience, and you have an article relating to The Book of Eli, create it! Spam or fanon articles will be deleted, however. Before creating an article, make sure it already doesn't exist. Use the box below to create an article:
Check out the community portal to see what the community is working on, to give feedback or just to say hi. We are currently editing 17 articles, and you can help!
Who is your favorite character?